Barcelona Aerobus Timetable - Schedule, Routes & More
If you're looking for the most cost-effective way to travel to and from the Barcelona Airport to the city center, the Aerobus is something you should definitely look out for. Learn all about the Barcelona Aerobus timetable, stops and more before making a visit to the city. 
Barcelona Aerobus Timetable | Knowledge Graph
Duration to & from Barcelona City to Airport - 35 minutes 
Duration of Departure - Every 5-10 minutes
Operating Days - 365 days a year
Number of Drop-off Points from T1 & T2 - 4
Number of Pick-up Points from City Center - 3
Know more about Barcelona Aerobus Map Routes
Barcelona Aerobus Routes

For both A1 and A2, the stops are not the same on the outward journey (from airport to city center) as on the return journey.
Itinerary from T1 & T2 - Airport T1 or T2 (depending on where you arrive), Plaça España, Gran Via - Urgell, Plaça Universitat and Plaça de Catalunya
Itinerary from City Center - Plaça de Catalunya, Sepulveda-Urgell and Plaça España and Airport T1 or T2 (depending on where you depart)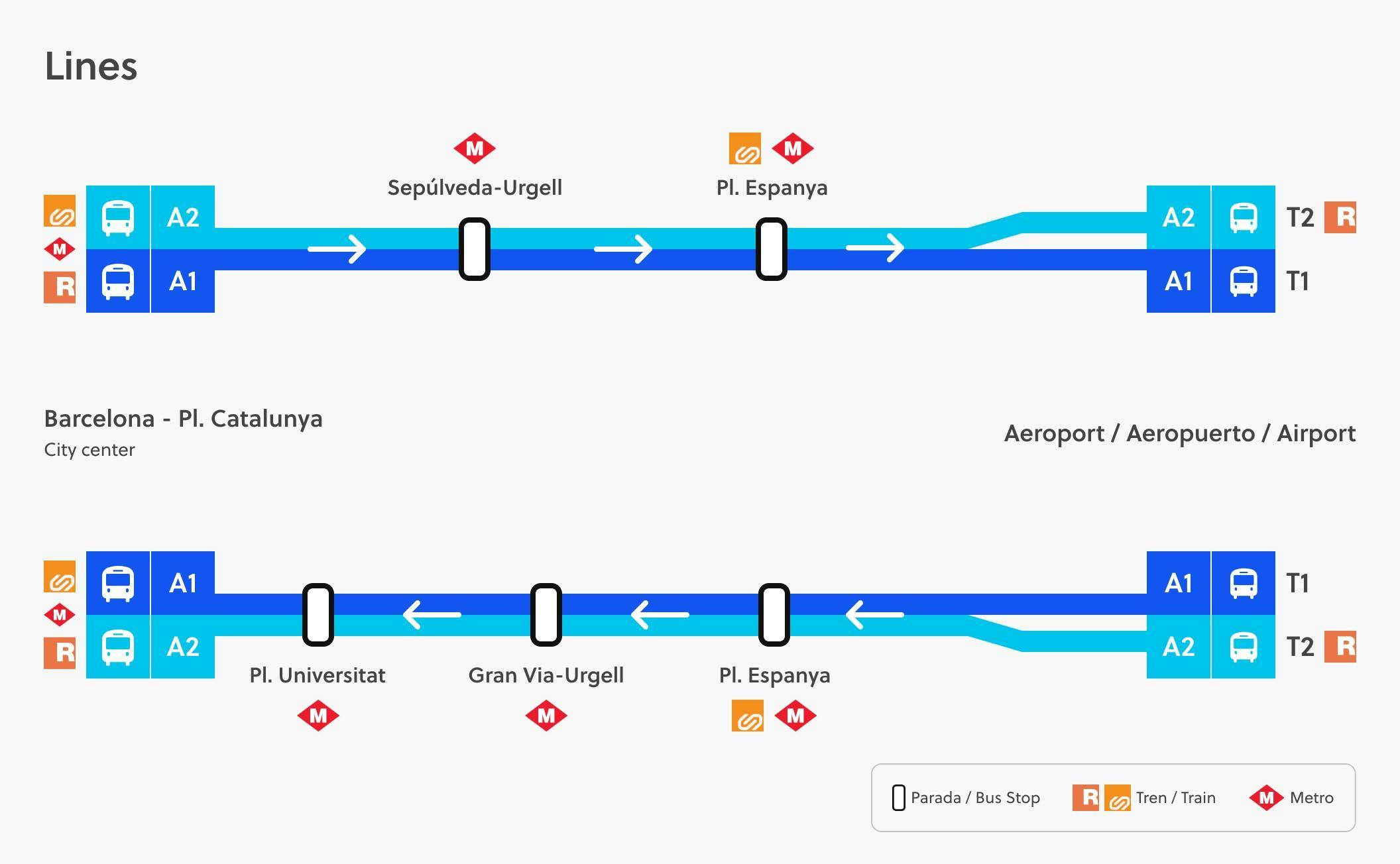 Barcelona Aerobus Timetable & Bus Frequencies 
Aerobus A1
From Terminal T1 to Plaça de Catalunya (city center)
From 5:35 AM to 7:20 AM - every 10 minutes
From 7:30 AM to 10:20 PM - every 5 minutes
From 10:25 PM to 1:05 AM - every 10 minutes
From Plaça de Catalunya (city center) to Terminal T1 
From 5 AM to 6:40 AM - every 10 minutes
From 6: 50 AM to 9: 45 PM -  every 5 minutes
From 9:50 PM to 12:30 AM - every 10 minutes
Aerobus A2 
From Terminal T2 to Plaça de Catalunya (city center)
From 5:35 AM to 1 AM -  every 10 minutes
From Plaça de Catalunya (city center) to Terminal T2 
From 5 AM to 12:30 AM bus - 10 minutes
All your questions about Barcelona Aerobus Timetables answered